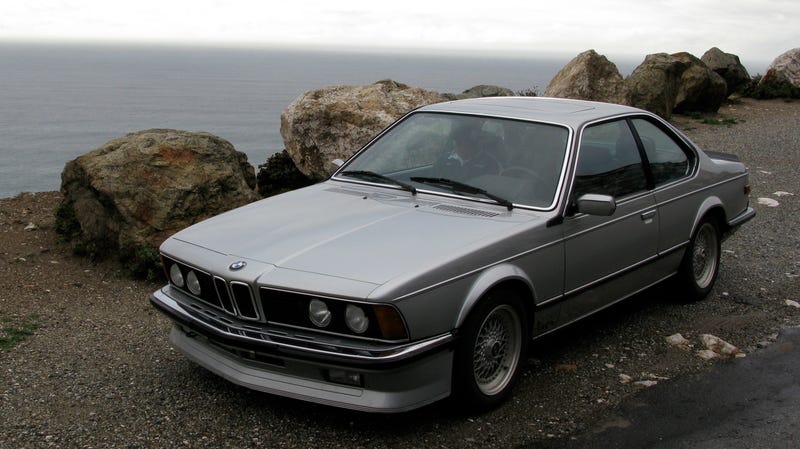 "Heilige Scheisse!" our fahrlehrer screamed, instructing my hostbrother to stay right on the Autobahn.  After topping out the Nissan Micra at 170 km/h, the high pitched drone of an approaching vehicle pierced the cabin.  As it climaxed, all six throttle butterflies pinned open, a silver flash streaked past in the fast lane.  I would later find out this was a 1985 BMW M635CSi.  After hearing that sound, I would never be the same.  It was what the Germans would call "sehnsucht."  The hairs in my inner ear had just lost their virginity, permed up like a 1980s hair band.
Introduced at the 1983 Frankfurt Auto Salon, the BMW M635CSi was the motorsport version of the E24 6 series.  Taking the M88/3 3.5L I6 from the M1 and shoehorning it into the 635CSi, BMW created what is perhaps the most erotic mix of style and performance to ever wear the roundel.  Producing 286 horsepower and 264 ft/lbs of torque, the Euro M635 handily outperformed the North American model M6. (BMW shortened the M635CSi to M6 for the NA market).  Saddled by a lack of leaded gasoline, higher emissions standards than West Germany at the time and catalytic convertors, the NA M6 used a slightly different motor, the 3.5L S38/B35.  With a lower compression ratio and a more restrictive exhaust, the S38/B35 produced only 252 hp and 243 ft/lbs.  In addition to the lower performance motor, the NA M6 had what are colloquially known as "diving board" bumpers that were a full four inches longer than those sleek bumpers of the Euro model.  
After returning to the US in 2008, it took four years of searching to find a low mileage, mechanically sound Euro M635CSi.  Pouring through years worth of archived for sale ads pertaining to E24s, gold was struck on the BMWCCA forums.  Not only was it a Euro M635CSi, but it was one of a handful that had recieved a full performance upgrade by Dinan in California.  Its tuning history is as follows:
1990- Tuning Chip installed by Dinan, Frank Fahey track pipe, converted BACK to Euro headlights w/ working washers/wipers, "bundle of snakes" equal lenth headers and random electrical bits, Fahey crank hub
1996- Stage II 3.9L Dinan Stroker installed at 76k.  New upgraded ECU chip, hoses, the whole lot.  Here is the original bill from Dinan, totalled 20k almost after all said and done
2000-2005 New Bilsteins front and rear, new dampers, new fuel tank/hoses/distributor/lines/vaccuum lines etc.  New spark plugs, fan, +++
2012- New performance reaction rod bushings, trans seals, A arms, ignition system, distributor, cap, rotor, plug wires, plugs, all fluids flushed, alignment, valve adjustment
 If you aren't familiar with Dinan, it is basically to BMW what Henessey is to Vipers.  After 76k miles, the single row timing chain of the M88/3 gave out.  The engine was pulled, sent to Dinan and recieved a Stage II Stroker upgrade.  This included titanium rods, valves, guides, upgraded valve springs, forged internals and more.  The cylinders were bored out to 92mm and a SCAT stroker crank was added.  A full ECU flash was done as well, increasing power from 286 to 366, a significant upgrade to say the least.  As expected, my heart skipped a beat as soon as I read it had a Dinan stroker.  I phoned the seller immediately and planned to fly to California to pick up the vehicle.  
Being late November, the weather in California was somewhat rainy, foggy and cold.  Not the ideal weather to probe the limits of an unfamiliar vehicle.  After sitting and weaving through rush hour traffic going to Google in Mountain View, we arrived in the hills at the place the vehicle was being stored.  The garage opened, and there it was, in perfect condition under a car cover.
This could not be real, I had to pinch myself.  Thankfully, I was not dreaming this time and we started up the vehicle, cranking over perfectly the first time.  After a short test drive through the hills I drove directly West on C-17 to the Pacific Coastal Highway.
 Following the PCH through Monterey and stopping at Pebble Beach and 17 Mile Drive, I couldn't help but distract some golfers with a second gear pull.  On the way down to San Diego we stopped in Big Sur, Malibu, Oceanside and finally San Diego.  
I left the vehicle with the Carroll Shelby of BMW, Frank Fahey.  Frank is perhaps the world's foremost expert on BMWs and I was honored to be able to meet him in person.  After discussing plans for the vehicle I decided on having everything gone through and any possible preventative maintenance performed.  Thankfully, the previous owner had spent almost $20,000 in the past few years bringing the car up to date mechanically.  Almost everything was replaced.  Other than needing a valve adjustment and some transmission seals, the car was ready to be shipped home.  
Although only a short 14 hour drive through the twisties, this was surely the most spiritual experience I have ever felt.  You get into a rythm through the twisties, passing Big Sur, where the above photo was taken, San Luis Obispo, Big Sur, the smog of Long Beach and the beauty of the hills around San Diego.  I am absolutely astounded at the build quality of these older beauties and the power of the M88/3.  These motors LOVE to be revved.  Once you hit 3k, hold on.  Peak torque of 365 ft/lbs comes in at 4500 RPM and the full 366 bhp comes in at 6500.  Redline is around 7200.  There is no sound that can compare to a BMW inline six at 7000 revs, nothing.  Anyone who has never driven or ridden in an E24/28/34, this is your notice.  DO IT.